Ahmedabad :  Global Indian International School (GIIS), Ahmedabad has been celebrating Earth Day (April 22) every year through a hands-on approach to saving our planet. This year's theme for Earth Day was 'Invest in our Planet'.
The Earth Day celebration is part of the school's robust Green Initiative Programme and I-care activities which among other things focuses on climate change, global warming and encouraging sustainability. It is also a step in the right direction for a school which is a signatory to the UN Sustainable Development Goals since last year.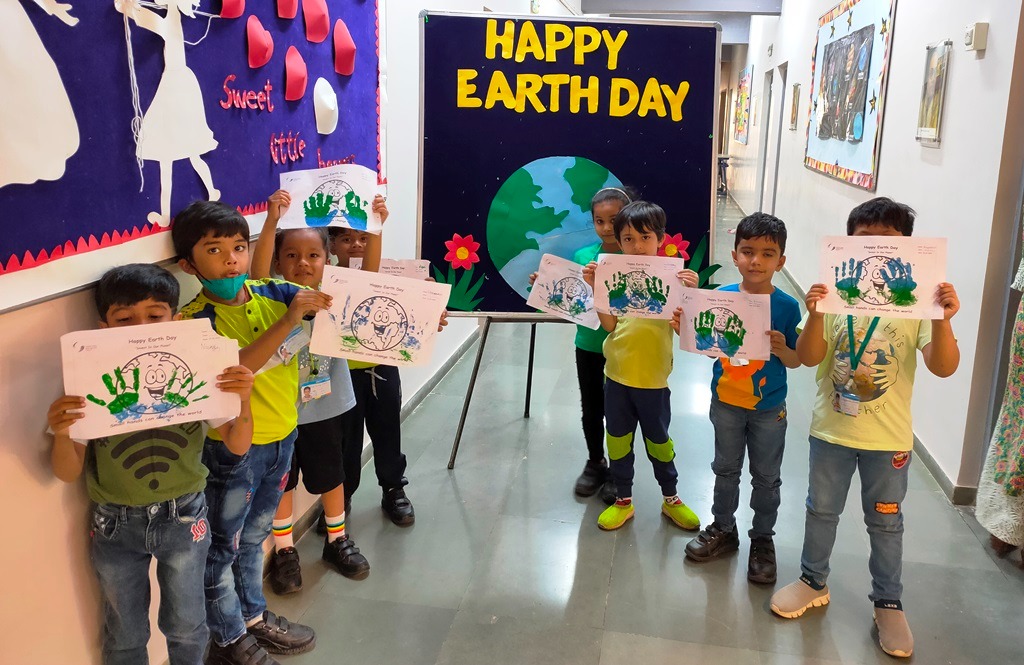 To mark this day, the school  came together to organize a host of activities for students from kindergarten to Grade 8. The children attended the celebration with a special blue and green dress code (symbolic of Mother Earth) and volunteered to protect the planet.
Kindergarten and nursery students had a special video and story session surrounding the planet. As a gesture of 'investing in our planet' two students of KG-1 D – Mishri Ganatra and Prashvi Badami planted saplings within the school premises.
For the students of Grade 3 to 5, several activities revolving around creative writing, slogan writing and poster making were organized. A discussion around 'zero food waste and the 'no plastic' campaign was also held.
Students of grades 6 to 8 had an elocution competition on – Changes that we can bring on Earth as children. Vanya Lahoti of Grade 8 (morning shift) won the competition with Padmaja Kadam coming second. Anshika Katiyar and Yug Patel stood third in the competition.
In the afternoon shift, Shriya Bhavsar of Grade 8 won the first prize, Satvik Sinha stood second while Bhavya Mathur and Pratham Tiwari were placed third.
Congratulating the participants and winners, Principal of GIIS Ahmedabad, Caesar D'silva said the event is not about winning or losing but is about loving Mother Earth. "Humans, animals and plants all of us have just one home- the Earth. We need to work together to save nature and keep our environment clean just as we do with our homes," said D'silva.
GIIS Ahmedabad's green initiatives have won several recognitions including the MQH Best Practices Award for Building Responsible Green Citizens and ELETS World Education Summit 2020 Award for Green School Initiative.