The seminar was a dedicated initiative for teachers, driven by a profound vision of nation-building through the transformative power of education. The event featured the esteemed presence of renowned folk writer and educator, Shri Sai Ram Dave. With an attendance exceeding 1200+ teachers from Surat city and thousands more virtually via social media, the seminar left an indelible impact.
Key Insights Shared by Shri. Sairam Dave:
Education lies in the confluence of skill and will.
Teachers hold the power to shape classrooms, not just control students.
On the 20th of August 2023, under the inspirational guidance of Shri Sai Ram Dave, a distinguished speaker, folklorist, and teacher, Red and White Multimedia Education organized the seminar Siksaka Rāṣṭrani divadandi at Sardar Smriti Bhawan in Surat. The event resonated with the wisdom and insights shared by Sairam Dave, captivating an audience of over 1200 teachers physically present and numerous more connecting digitally from across Gujarat.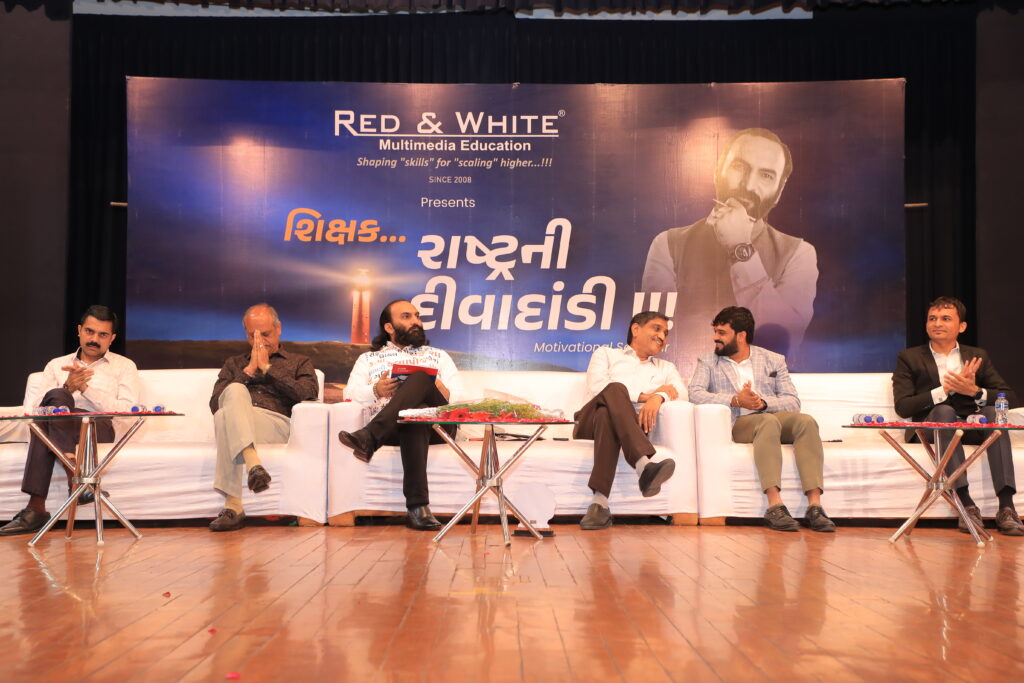 Sairam Dave's engaging discourse revolved around the profound duties and responsibilities teachers hold towards their students. In his unique and humorous style, he underscored the distinction between education and mere training. Genuine education requires the synthesis of skill and will. He further stressed the vital role of nurturing a confluence of care, contemplation, and the preservation of timeless culture through education and educators in today's youth.
Additionally, Sairam Dave extended his accolades to Red and White Multimedia's teaching methodologies through a heartfelt greeting message.
A special guest, Mr. Kanjibhai Bhalala, a leader of Saurashtra Patel Seva Samaj, drew parallels between the influence of teachers and mothers, recognizing their unparalleled potential to shape the future. Mr. Rameshbhai Vaghasia, President of the Southern Gujarat Chamber of Commerce and Industry, further expounded on the merits of "Industry Ready" education aligning with practical industry demands.
The event also witnessed the grand launch of futuristic courses encompassing artificial intelligence, data science, AR VR Development, and more, firmly positioning Red and White Multimedia Education as a pioneer in these emerging fields.
Moreover, the seminar fervently emphasized the essence of service, the power of conceptualization, and the motivation pivotal for nurturing holistic student development. The resounding success of this seminar and its far-reaching impact foreshadow a new educational benchmark in Surat, inspiring standards of excellence that will resonate for years to come.